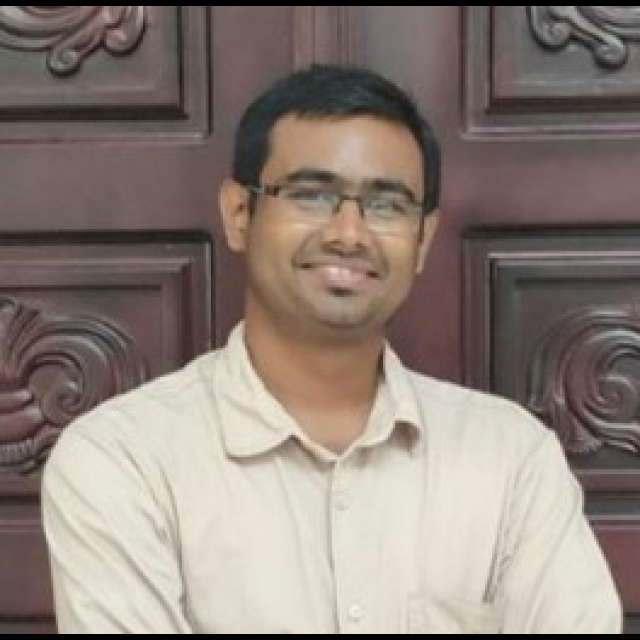 Mr. Madhavanunni A N
Research Scholar
Biosketch
Education
Doctor of Philosophy (Ph.D.) in Electrical Engineering (July 2018 - Present)
--- Joined IIT Palakkad as an M.S. research scholar in 2018 July, and upgraded to Ph.D. in June 2020.
--- Area of Research: Biomedical Ultrasound Imaging
Bachelor of Technology (B. Tech) in Electrical and Electronics Engineering (2011 - 2015)
--- College of Engineering Adoor, Cochin University of Science And Technology, Kerala.
--- Final Year Project: Microchip Based Fuzzy Logic Controller for Reactive Power Compensation.
Professional Experience
Intern, Texas Instruments Inc., Bangalore (Jan - Mar 2020)
Programmer Analyst, Cognizant Technology Solutions (CTS) India Pvt. Ltd., Coimbatore (Dec 2015 - Mar 2017)
Graduate Trainee, Cochin Shipyard Ltd., Kerala (Nov 2015)
Research Area
Biomedical Ultrasound Imaging
Additional Information
Title
Teaching Assistance
Description
EE5005 - Digital Image Processing (Aug - Nov 2021)
ME1160 - Workshop Practice II (Aug - Nov 2021)
EE2080 - Microprocessor Design and Interfacing (Jan - May 2021)
EE2010 - Basic Electrical Engineering (Aug - Nov 2020) 
EE2170 - Digital Circuits Lab (Jan - May 2021, Aug - Nov 2019)
EE4051 - Biomedical Instrumentation and Signal Processing (Jan - May 2019)
Title
Research Publications
Description
Patents:
Harikrishnan Pisharody Gopalkrishnan, Mahesh Raveendranatha Panicker, Madhavanunni A.N., Gayathri Malamal. "Array Adaptive Ultrasound Apparatus for Variable Field of View Imaging" India Patent No. 202141036310
Journals:
Madhavanunni A. N. and Mahesh Raveendranatha Panicker, "Beam Multiply and Sum Beamforming for Non-Steered Plane Wave High Framerate Ultrasound Imaging," (Under Review).
 
Madhavanunni A. N. and Mahesh Raveendranatha Panicker, "A Nonlinear High-Resolution Beamforming for Plane Wave Ultrasound Flow Imaging," in IEEE Transactions on Ultrasonics, Ferroelectrics, and Frequency Control. (Under Major Revision) [arXiv] 
International Conferences:
Preprints 
Mahesh Raveendranatha Panicker, Yale Tung Chen, Gayathri M, Madhavanunni A N, Kiran Vishnu Narayan, C Kesavadas and A P Vinod, "An Approach Towards Physics Informed Lung Ultrasound Image Scoring Neural Network for Diagnostic Assistance in COVID-19". [arXiv]