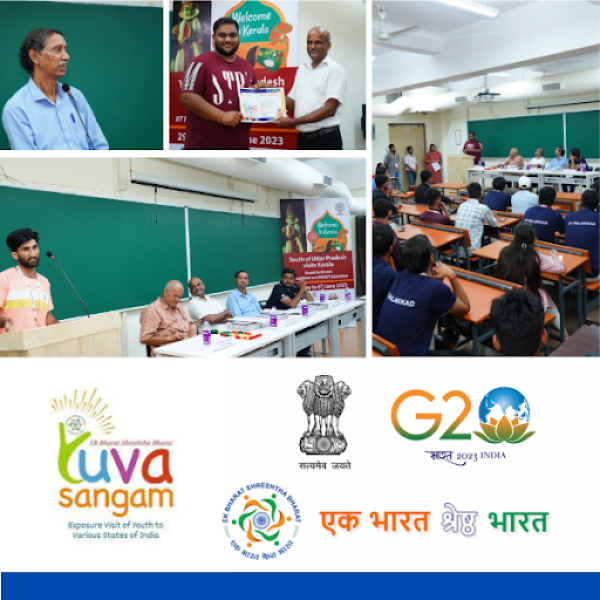 Until we meet next time Bye-Bye Yuva Sangam friends from Uttar Pradesh
Tue, 6th Jun, 2023 - 06:30 pm
The week-long visit of Yuva Sangam delegates from Kerala concluded with the valedictory function. During the event, participants took the opportunity to reflect on their experiences and reminisce about the memorable moments they had in Kerala.
Prof. A. Sesadri Sekhar, Director, IIT Palakkad, extended his wishes to the participants and encouraged them to assimilate the spirit of unity and diversity to the heart. Prof. Sesadri Sekhar,gifted mementos  to faculty members and the ministry officials.  Prof. Jagadeesh Bayry, Dean, Student Affairs gave away the certificates to the delegates.
Many delegates from MNNIT fondly recalled their unforgettable ride on the Tatra Truck during their visit to BEML. " Yet another memorable experience includes their interactions at Kodanad elephant training center, where they realized the intricacies which otherwise would not have been  known," says Shilpa Dahiya, the official from the Ministry of Education, Govt. of India. The delegates were astonished to see the facilities offered in government run schools in the state.  
Dr. Rajesh Tripathy, faculty, MNNIT says he was fascinated by the Granite statues he founded at Adi Sankaracharya Sthoopam in Kalady. Further, the drip irrigation system that is being used in banana plantations by the farmers in Kerala  is seen as a stark contrast to the banana farming followed in Uttar Pradesh.
The team was amazed by the cleanliness of roads and hospitality they received. The presence of women officials was a pleasant sight which is a mark of women empowerment.  One of the delegates added that the Pudussery panchayat has a representation of more than 60% women officials which is higher than the mandatory 50% reservation to the women.
During their short exploration in Kerala, the team visited Adi Sankaracharya Sthoopam in Kalady,     Kodanad Elephant training center, Malampuzha Dam, Parambikulam Tiger Reserve, BEML, Kuthampully Handloom Village,  Ahalia Heritage Village, Thasrak and engaged with members and officials of the Pudussery Grama Panchayat.