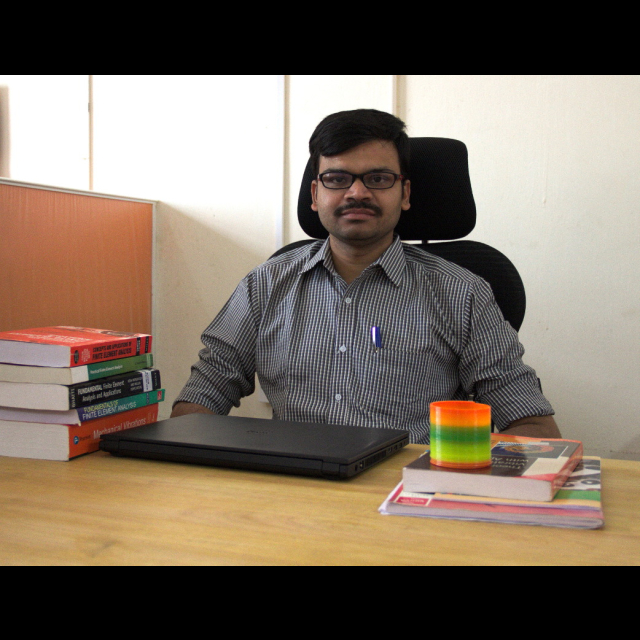 Dr. KVN Surendra
Assistant Professor
Biosketch
Educational Qualification Details:
Ph.D.   (IISc Bangalore, Aug 2011 - Dec 2015)
M.E.    (IISc Bangalore, Aug 2008 - Jun 2010)
B.Tech (JNTU Kakinada, Sep 2004 - Apr 2008)
Work Experience:
Assistant Professor (IIT Palakkad, Oct 2019 - till now)
Assistant Professor (on contractual basis) (IIT Palakkad, Jul 2017 - Oct 2019)
Assistant Professor (BITS Hyderabad, Dec 2015 - Jul 2017)
EEDP Engineer (GE - Energy, Bangalore, Jun 2010 - Jun 2011)
Research
Journal paper:
Bijit Kalita and KVN Surendra,

2019. Mixed Mode Fracture Analyses Using Finite Element Method of Edge Cracked Heavy Spinning Annulus Pulley, International Journal of Aerospace and Mechanical Engineering, Vol:13, No:5, Pages: 377-382, ISNI:91950263.
Conference presentations:
KVN Surendra & Aditya Pratap Singh, July 2017. Stress intensity factor of spinning center-cracked Brazilian disk, Indian Conference on Applied Mechanics (INCAM)-2017, MNIT Allahabad.
Rohit Kumar & KVN Surendra, July 2018. Finite element stress analysis of simplified 2-D model of automobile wheel, NAFEMS India Regional Conference on Engineering Modelling, Analysis, Simulation and 3D-Printing, Bengaluru.
Bijit Kalita and KVN Surendra, Contact stress analysis of a heavy annulus pulley of transmission system, Poster, 4th Indian Conf. on Applied Mech. (INCAM-2019), IISc Bangalore, 3-5 July 2019.
Bijit Kalita and KVN Surendra, Finite element analyses of a centre cracked heavy rotating pulley, 1st Int. Conf. on Mechanical Power Transmission (ICMPT-2019), IIT Madras, 11-13 July 2019.
Mohammed Shafeeque KK and KVN Surendra, Stress Analysis of a Brake Drum under different contact conditions, IndiaTrib international conference, IISc, Bangalore, 1-4 Dec 2019.
Teaching
Aug-Nov 2020 semester:
ME3070: Design of machine elements (PMT)
During Jul 2017 - Jul 2020:
Mechanical Vibrations (thrice)
Engineering Drawing (involved twice)
Design of Machine Elements (involved once)
ME3522: Intro. to Finite Element Methods & ME5501: Finite Element Methods (twice)
ME5001: Fracture Mechanics
ME5616: Impact mechanics of solids
ME4501: Computer Aided Design
Applied Mechanics Lab and ME Labs - I, II, III
Workshop Practice I
Research Group
Ph.D. Student:
Mohammed Shafeeque K.K. (Jul 2018 - ongoing)
M.S. Student:
Bijit Kalita (Jan 2018 - Dec 2019)
B.Tech Project (BTP) Students:
Gopu Krishnan
Shubham, Naga Srihari, Utsav Khaitan and Gaurav Saharan (2016-20)
Rohit Kumar, Monarch Mech and Prakhar Agrawal (2015-19)
Research Area
Fracture Mechanics
Elasticity