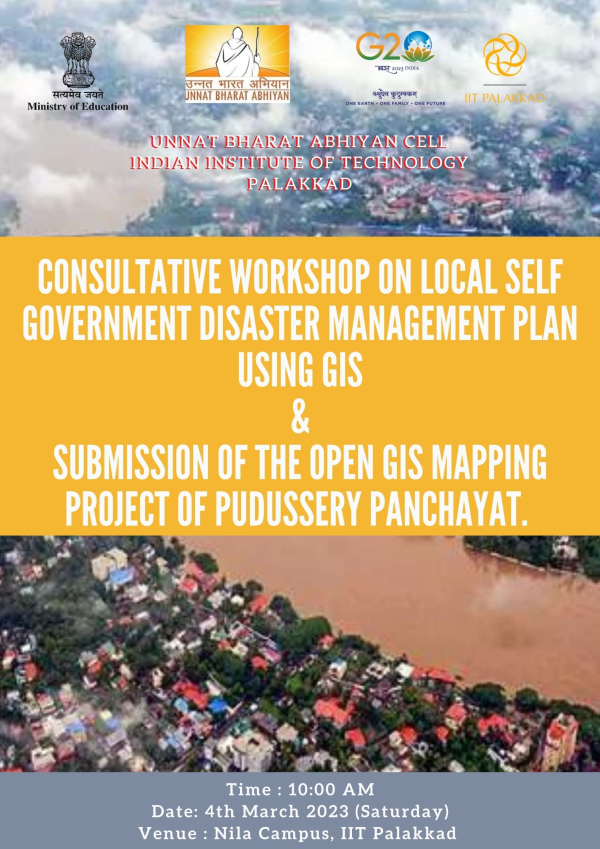 Consultative Workshop On Local Self Government Disaster Management Plan using GIS
Thu, 2nd Mar, 2023 - 06:30 pm
The Unnat Bharat Abhiyan Cell of IIT Palakkad is organising a  Consultative Workshop On Local Self Government Disaster Management Plan using GIS and the Official Handing over of Open GIS Mapping Project of Pudussery Grama Panchayat.
The Open GIS Mapping project was a community-driven mapping project initiated under the UBA Cell of the institute with the support of OpenStreet Map Community Volunteers. This project resulted in the hoisting of a web interface (OGD IIT Palakkad) and the preparation of cartography-based maps of the ward, land use patterns, farmland, and water resources using the gathered data. As a follow-up to the project, the UBA Cell is assisting Pudussery Grama Panchayat in developing a GIS-based Disaster Management Plan in an effort to bring disaster management operations to the local level and encourage the local community in the development of disaster management plans.
We are expecting participation from Kerala State Disaster Management Authority, Kerala Institute of Local Administration, OpenStreet Map Community, Socio Economic Unit Foundation, GIS experts, UBA Coordinators and all Ward Members of Pudussery Grama Panchayat.
Date : 4th March 2023
Venue: Room No - 305, Nila Campus, IIT Palakkad
Time: 10 A.M onwards