Speaker
Eminent speakers from IITs, RRCAT, DRDO, and Industries.
From
Mon, 13th Dec, 2021 9:00 am
Add to Calendar
2021-12-13 09:00:54
2021-12-13 09:00:54
Title
Description
Location
IIT Palakkad
mssarath@gmail.com
UTC
public
To
Fri, 17th Dec, 2021 5:00 pm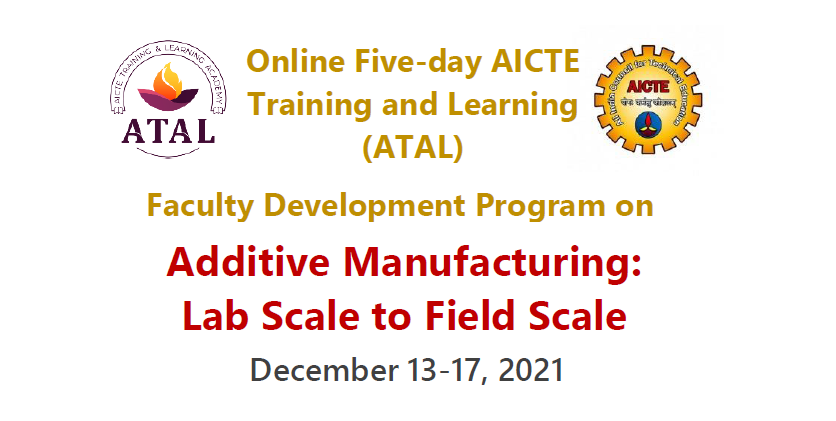 ---
AICTE Training and Learning (ATAL) Academy Sponsored Online
Five-day Faculty Development Program
Additive Manufacturing: Lab to Field Scale
(13-17, December, 2021)
---
AICTE Training and Learning (ATAL) Academy
ATAL Academy was established with a vision to empower faculty to achieve goals of Higher Education such as access, equity and quality. ATAL Faculty Development Programme (FDP) has been designed to fulfill the need to train the young generation in the skill sector and having faculty & technicians to be trained in their respective disciplines.

The objectives of ATAL FDP are:
To support technical institutions in fostering research innovation and entrepreneurship through training
To stress upon empowering technical teachers & technicians using ICT
To provide a variety of opportunities for training and exchange of experiences such as workshops, orientations, learning communities, peer mentoring and other FDPs.
Overview
Additive manufacturing (AM) is the emerging trend and will be the future of the manufacturing capabilities of humankind. AM, formerly known as Rapid prototyping, redefines how products are designed, produced, and serviced. AM enables on-demand production without dedicated equipment or tooling, unlocks digital design tools, and offers breakthrough performance and unparalleled flexibility across industries. This emerging technology is revolutionizing the manufacturing industry with its ability to turn digital data into physical parts. As the technology becomes more developed, AM is moved from prototype fabrication into real-time part production on an industrial scale.
 
This context is primarily designed for the fundamental understanding of different additive manufacturing technologies for realizing the metallic and non-metallic manufacturing capabilities. Possibilities of reducing the time consumption for part production by minimizing the pre and post-processing time. Case studies that deploy quantitative analysis tools discussed in the lecture to solve a real or imagined technical challenge from the lab to the factory. The ways changed to achieve sustainability in manufacturing are because of AM.
 
The participants will be able to develop a fundamental understanding of different perspectives and recent developments in the AM field through the workshop and reinforce their knowledge through interaction during or after lecture hours.

Department of Mechanical Engineering
Department of Mechanical Engineering at IIT Palakkad has earned a good reputation as a center of excellence in academics, research and industrial collaborations within a short time since establishment. The department offers B.Tech. in Mechanical Engineering and M.Tech. in Manufacturing and Materials Engineering. It has state-of-the-art research facilities with key research areas being additive manufacturing, micro and nano machining, contact mechanics, tribology, laser processing, welding and surface engineering, composite fabrication and machining, transport in porous media, heat transfer studies in space-simulated environments and development of novel numerical approaches for incompressible and compressible flows. This enables the students to get theoretical knowledge as well as in hand experience in all aspects. The vision of the Mechanical Engineering stream is to train and graduate students who would be leaders in their chosen field. Our students have graduated with UG and PG degrees and have been placed well in industry and higher educational institutions.
Course Contents
Introduction to Additive Manufacturing processes     
Polymer and Metal-based Additive Manufacturing processes     
Design for Additive Manufacturing     
Heat Transfer in Additive Manufacturing processes     
Post-Processing of Additive Manufacturing parts     
Laser additive micro and macro manufacturing     
Rapid Tooling: An Industrial application
Role of Additive Manufacturing in Aerospace parts and its Certification
State of the art of Additive Manufacturing in Industry
Mode
Online
How to apply
The applicants should register at AICTE-ATAL web portal at the earliest.
Step1: Sign up as a Participant https://atalacademy.aicte-india.org/signup
Step 2: Verify, Login – Workshops, State – Kerala, Month – December, Thrust area – All
Step3:  Register to "Additive Manufacturing: Lab Scale to Field Scale", @ IIT Palakkad
Date and time
13-17 December, 2021
Who can attend
Faculty members of the AICTE approved institutions
Research scholars and PG students
Personnel from government sector, research, and development, and industries
School teachers and staff of host institutions
Faculty
Dr. D. Kesavan is an Assistant Professor at Indian Institute of Technology Palakkad.
Website: https://iitpkd.ac.in/people/kesavan
Dr. S. Kanmani Subbu is an Assistant Professor at Indian Institute of Technology Palakkad.
Website: https://iitpkd.ac.in/people/sksubbu
Please click here to view ATAL workshop brochure.