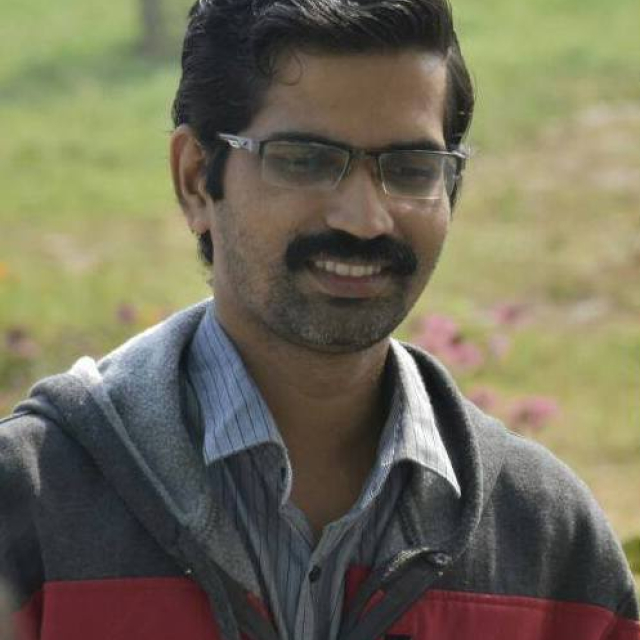 Dr. Jayakumar Balakrishnan
Asst. Professor
Biosketch
Experience
a) Assistant Professor, Department of Physics, IIT Palakkad (July 2017 - till date)
b) Assistant Professor, Department of Physics, IIT Patna (Dec 2015 - July 2017)
c) DST INSPIRE Faculty, Department of Physics, IIT Patna ( July 2014 - Dec 2015)
d) Research Associate, Department of Physics, National University of Singapore ( Aug  2013 -July 2014)
e) Assistant System Engineer, Tata Consultancy Services (Aug 2006-July 2008)
Education
a) PhD - National University of Singapore (Degree Awarded: Feb 2014)
b) M.Sc - Indian Institute of Technology Madras (2006)
c) B.Sc - Government College Madappally (2004)
d) Plus Two:  Government Sanskrit Higher Secondary School, Vadakara (2001)
Research
Research Interests: Electrical- and Magneto- transport studies in 2D materials
                                  Transport studies in perovskite and hybrid/heterostructures of perovskite - 2D materials
Teaching
@IIT Palakkad
Academic Year

Semester

Courses

Academic Year

Semester

Courses

2020-2021

Odd

PH5009 – Condensed Matter Physics

PH6001– Experimental Techniques in Physics

2019-2020

Odd

PH4601 - Magnetic Materials and its Applications

PH5101 - M.Sc Physics Ist Semester Lab

Even

 

Even

PH1020 - B.Tech First Year (Sem 2) Physics Theory course

2018-2019

Odd

PH1010-B.Tech First Year Physics Theory course

PH1030 - B.Tech First Year Physics Lab Course

2017-2018

Odd

PH1010-B.Tech First Year Physics Theory course

PH1030 - B.Tech First Year Physics Lab Course

Even

PH1020 - B.Tech First Year (Sem 2) Physics Theory course

PH6001 – Experimental Techniques in Physics

Even

PH1020 - B.Tech First Year (Sem 2) Physics Theory course
@ IIT Patna
Academic Year 2016-17
a) Odd Semester:   NT501-  Concepts of  Nanomaterials (Theory)
                                NT505 - Nanoscale Measurement and Analysis Laboratory (Lab)
                                PH110 - B. Tech First Year Physics Lab (Lab, Overall Lab Coordinator)
b) Even Semester: PH 515 - MEMS and NEMS (Theory)
Academic Year 2015-16
a) Odd Semester:   NT501-  Concepts of  Nanomaterials (Theory)
                               PH101T - B. Tech First Year Physics Theory Tutorial (Tutorial)
b) Even Semester: PH 515 - MEMS and NEMS (Theory)
Research Group
PhD Students:
a) Ms. Ranjuna M K 
b) Ms. Lidhyal Leena (Joint Supervison: Prof. S. Kasiviswanathan, IIT Madras)
c) Mr. Nikhil Joseph Joy 
d) Ms. Reshna Elsa Philip (Joint Supervison: Dr. Soham Manni, IIT Palakkad )
JRF
a) Ms. Surabhi R S  (DST-SERB-CRG grant)
Former Students (Completed):
I)  JRF
a). Mr. Shwetank  (2018): Present Position : Scientist ISRO
2) Internship Students:
a) Ms. Sravya V   (Summer Intern - 2019)
b) Ms. Nusaiba K  (MSc Project Intern, Govt. College Madappally  - Dec 2019 - Feb 2020): Thesis Title: "Investigating the Effect of Metal Nanoparticles on Graphene by RamanSpectroscopy"
II). M.Tech  FYP
a). Ms. Vaishali Chauhan (2017); Thesis Title: "Thermal Conductivity Measurement in Gold Nanoparticle Decorated H-BN by Raman spectroscopy"
     Present Position : PhD Student, IIT Bombay
b) Mr. Anand Kumar Upadhyay (2017); Thesis Tilte: "Design, Simulation and Fabrication of MEMS Based Piezoresistive Accelerometer"  (Joint Supevision: Dr. Ajay D Thakur (IIT Patna), and Dr. Ravindra Mukhiya (CSIR-CEERI Pilani))
    Present Position: Scientist CSIR-CEERI Pilani
c) Ms. Sonu Bishnoi (2016); Thesis Title: "2D Material/Perovskite hybrid"
    Present Position :  PhD Student, IIT Patna
d) Ms. Upasana Sahu (2016): Thesis Title: "YBCO-LSMO heterostructure" (Joint Supervision: Dr. Ajay D Thakur (IIT Patna))
   Present Position: PhD Student, IIT Delhi
Research Area
Experimental Condensed Matter Physics - 2D Materials and Perovskites
Additional Information
Title
Externally Funded Project:
Description
a) Title: Spin Transport in Graphene/LSMO heterostructures
Funding Agency : DST Nanomission
Duration: 3 years
Status: Ongoing
b) Title: DST INSPIRE Faculty
Funding Agency: DST
Duration: 5 years
Status: Ongoing
Description
Academic Talks:   National Science Day 2020 - Talk on Raman spectroscopy at IIT Palakkad  (February 2020)
                               Invited Talk:  International Conference on Theoretical and Experimental Physics, ICTEP 2020, Farook College  (February 2020)
                               Inaugural Lecture:  Sasthrapadham , Social Science Enrichment Residential Camp, Samagra Shiksha, Kerala and Directorate of Collegiate Education and Department of General Education, Kerala  - at Victoria College Palakkad (January 2020)
                               Invited Talk:  National Conference on Optoelectronic and Nano Materials for Advanced Technology (nCONMAT -2020) at CUSAT, Kochi  (January 2020)
                               Prabhashanam -  Akasavani Thrissur (AIR Thrissur) on Eminent Indian Scientists  (October  2019)
                           Invited Talk:  Annual Physics Symposium - Frontiers in Physics - St. Teresa's College Ernakulam  (December 2017)
                               Resource person : Science Promotion Week, Govt. of Kerala in commemoration of  the birth anniversaries of Prof. C. V. Raman and Madam Marie Curie organised by KSCSTE and KSSP at Vimala College, Thrissur  (November 2017)
Reviewer:             Journal of Raman Spectroscopy, Applied Physics Letters, Nature Communications
Conferences/Workshops Organized:  Science Quest Workshop for +1 students - Program Coordinator (2019)
                                                                15th Asian Conference on Solid State Ionics, 2016 @ IIT Patna. (Conference Secretary)