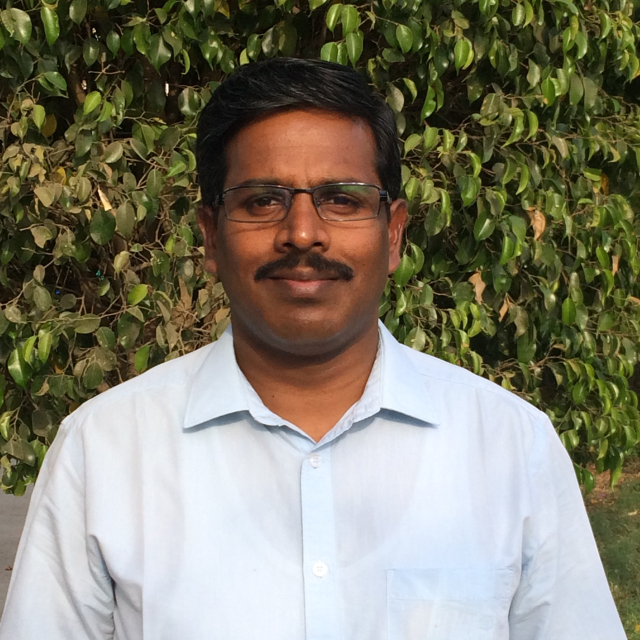 Dr. M. Ashok Kumar
Assistant Professor
Biosketch
Dr Ashok Kumar received his bachelor's and master's degrees in Mathematics from the Manonmaniam Sundaranar University, Tirunelveli, in 1999 and 2001 respectively. He passed the CSIR-UGC (NET) for lectureship in Mathematical Sciences in 2001 and started lecturing Mathematics in various educational institutions until December 2007. During this period he developed an interest in Applied Mathematics. He obtained the CSIR-UGC (NET) for JRF in December 2007 and joined for a Ph.D programme in the department of Electrical Communication Engineering of the Indian Institute of Science, Bangalore, under the supervision of Prof. Rajesh Sundaresan. He completed his Ph.D in October 2014. Subsequently, he was a Visiting Scientist at the Stat-Math Unit of the Indian Statistical Institute, Bangalore from December 2014 to May 2015 and a post-doctoral fellow at the department of Electrical Engineering of the Technion-Israel Institute of Technology from May 2015 to December 2015 under the mentorship of Prof. Igal Sason. He was with the discipline of Mathematics of IIT Indore from January 2016 to May 2018. He joined IIT Palakkad in June 2018.
Research
Broadly: I work on the intersection of information theory, statistics and probability
Specifically: measures of information, Renyi entropy, robust statistical inference, distance based inference, large deviations theory, maximum entropy, information geometry.
Recent Work:
Teaching
MA2040: Probability, Stochastic Processes and Statistics (July 2018, July 2019, January 2020, Feb-May 2021)
MA2032: Numerical Analysis (January 2019)
MA6001: Probability Theory (January 2020)
MA5007: Probability & Statistics (September 2020 - January 2021)
Research Group
PhD Students
1. Atin Gayen (since July 2016)
Past Students
1. Vishnu Mohanan (Summer Intern, CUSAT, Kerala, June 2019)
2. Ashish Thakre (M.Sc. Mathematics at IIT Indore, May 2018)
Title of the thesis: A Unified Approach to Problems on Guessing, Source Coding and Encoding of Tasks
3. Shubham Thakur (Summer Intern, IIT Guwahati, June 2017)
4. Manikandan C. (October 2020)
Research Area
Information Theory, Statistics, and Probability
Additional Information
Description
SERB's VAJRA award jointly with Prof. Michel Broniatowski of UPMC, Paris, France.

Travel grant from SERB for ISIT 2018.