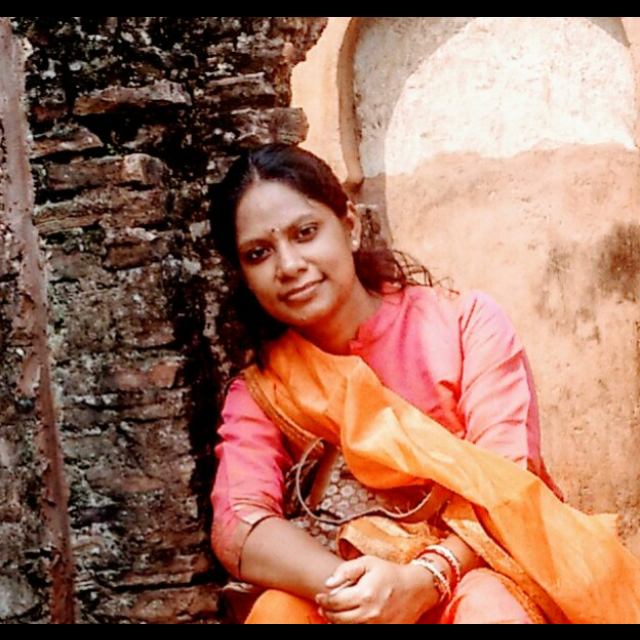 Dr. Amrita Roy
Assistant Professor
Biosketch
Education
Ph. D., Economics, Jawaharlal Nehru University, 2014
 M. Phil, Economics, Jawaharlal Nehru University, 2008
M. A., Economics, Jawaharlal Nehru University, 2005
B. A. Hons., Economics, North Bengal University, 2003
Work Experience
Assistant Professor, Humanities and Social Sciences, December 2018 - present.
Assistant Professor, Department of Economics, Midnapore College (Autonomous), W. B., November 2016 - present.
Institute Postdoctoral Fellow, Indian Institute of Technology Kanpur, October 2015 – October 2016.
Senior Research Analyst, Institute of Economic Growth, New Delhi, Jan 2015 – July 2015.
Research Assistant, Rajiv Gandhi Institute of Contemporary Studies, New Delhi, May 2004 - July 2004 and February 2006 – March 2006.
Research Fellow, Ministry of Rural Development, April 2006 – July 2006.
Research Fellow, Indian Institute of Foreign Trade, New Delhi, October 2007 – January 2008.
Research
Papers/Articles Published:
1. Kar S., Roy A. and Sen, K. (2019), "The double trap: Institutions and economic development", Economic Modelling, 76 (C), 243.
            2. Roy A. and Mathur S. K. (2016), "Brexit and the India-EU Free Trade Agreement", Journal of Economic Integration, 31 (4), 740
            3. Roy A. (2015), "Expansion of Services Output Share: Traditional Factors or Policy Changes?" Global Economy Journal, 15(3), 409.
           4. Roy A. (2015), "Non-stationary and Spurious Relations Between the Output Levels of the Services and the Commodity Producing Sectors in India:
               A Reexamination of the Literature" –   Trade and Development Review, 8(1), 42.
           5. Roy A. (2015), "Structural Change and the Changing Relationship between the Industrial and the Service Sector: Evidence from Indian States",
               Indian Growth and Development Review,    8(1), 73.
           6. Roy A. (2013), "Kaldor's Growth Law and the Growth of the Service Sector", The Empirical Economics Letters, 12(12), 1321.
Book Chapters:
Roy, A. & Mathur, S. (2017). Bilateral Trade Costs and growth of trade in Services: A Comparative study of India and China. In  S. Mathur, R. Arora & S. Singh (Eds.) Theorizing International trade An Indian Perspective edited (pp.141-161). Springer Singapore: Palgrave Macmillan.
Singh S., Arora R., Roy A. and Mathur S. K. (2016), "Advances in International Trade Theory", Book Chapter in "Methods and Applications in Trade Policy Research", Athena Academic (London) 

Roy A. and Pradhan G. (2005),

Choice in Uncertain Situations, Microeconomic Analysis, IGNOU, New Delhi.
Other Articles:
Roy A. (2016) and Mathur S. K., "Of Men & Machines", Financial Chronicle, March 21.
Mathur S. K. and Roy A. (2016), "Between the Devil and the Deep Sea", Financial Chronicle, February 08.
Roy A. and Mathur S. K. (2015), "Will the Top 200 Universities Set up Campus in India under GATT?", Financial Chronicle, December 07.
Conference:

 

1.

"Multidimensional poverty and quality of governance in Indian states", 20th Annual Conference of the Indian Association of Social Science Institutions (IASSI),
      27-29 February 2020 at the Institute for Social and Economic Change (ISEC), Bengaluru.
  2.

"Disparity in Income poverty and Multidimensional poverty estimates: A case study of Salboni and Binpur-1 blocks", International Conference on
     'Sustainable Development and Education', 5- 6 March, 2020 at the Central University of Kerala (paper accepted but did not attend).

 



Research Area
Trade and Development, Economic Growth