Yuva Sangam (युवा संगम) under Ek Bharat Shreshtha Bharat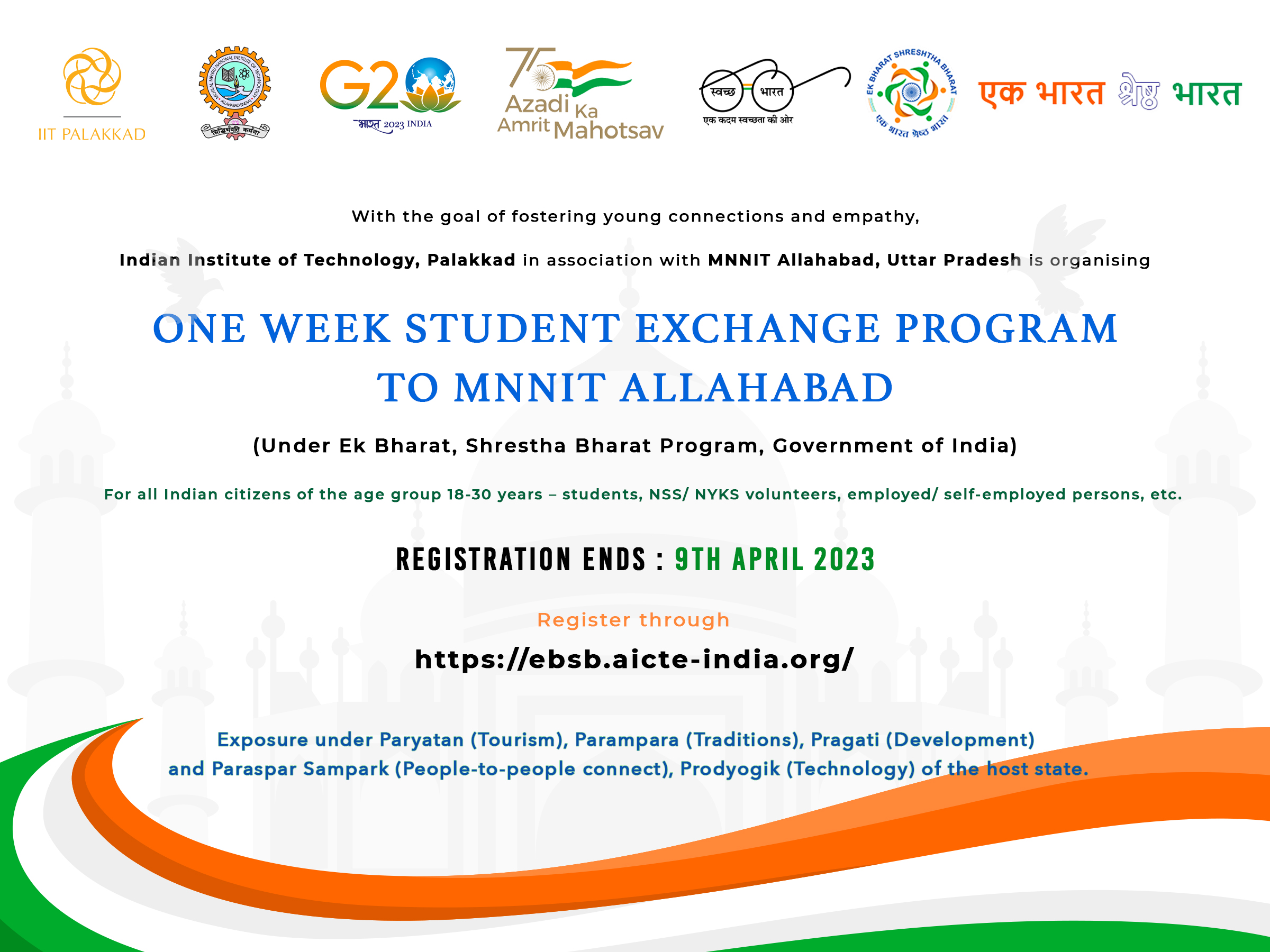 The Ek Bharat Shreshtha Bharat (EBSB) programme was initiated by the central government to enhance interaction & promote mutual understanding between people of different states and Union Territories. Activities are carried out which help in better understanding of a state's culture in the areas of language, traditions, music, cuisine etc. In this regard the EBSB Yuva Sangam focuses on conducting exposure tours of students studying in higher education institutions, employed/self employed youths from across the nation to various states in India. It will offer an immersive experience of many facets of life, developmental milestones, accomplishments, and a youth connection in the host State. During the visits, the youth will get multifaceted exposure under five broad areas of the host state – Paryatan (Tourism), Parampara (Traditions), Pragati (Development) and Paraspar Sampark (People-to-people connect), Prodyogik (Technology).
IIT Palakkad, a premier institution of higher education is delighted to be paired with MNNIT, Allahabad for the EBSB Yuva Sangam Program. IIT Palakkad will select 45 candidates from across Kerala and the UT of Lakshadweep for the program. The selected candidates will have an opportunity to visit MNNIT, Allahabad in Uttar Pradesh spending a week there which will promote better understanding of each other's culture. Interested candidates can register at the ESEB registration portal through this link: https://ebsb.aicte-india.org/

The last date for the application is 9th April 2023.
Eligibility
All Indian citizens of the age group 18-30 years – students, NSS/ NYKS volunteers, employed/ self-employed persons, etc. are eligible to apply under this programme.
The applicant should be medically fit and able to travel.