National Service Scheme (NSS) IIT Palakkad Chapter
Ullas Trust Program
A'CAN DO' Workshop for the students of Kendriya Vidyalaya and JNV Palakkad was conducted at the IIT Palakkad Agora Auditorium on 20th November in collaboration with the Ullas Trust. This was preceded on 19th November by an Induction program for the faculty, staff and NSS volunteers of IIT. Ullas Trust (A Polaris Foundation social initiative) was started in 1997 with the aim to integrate their associates (Polaris and then Intellect) with the larger community and enable them to partake in the joy of working with young minds in the country. The primary motive of Ullas is to recognise academic excellence in students from the economically challenged sections of our society and foster in them a "Can Do" spirit towards chasing their dreams and aspirations.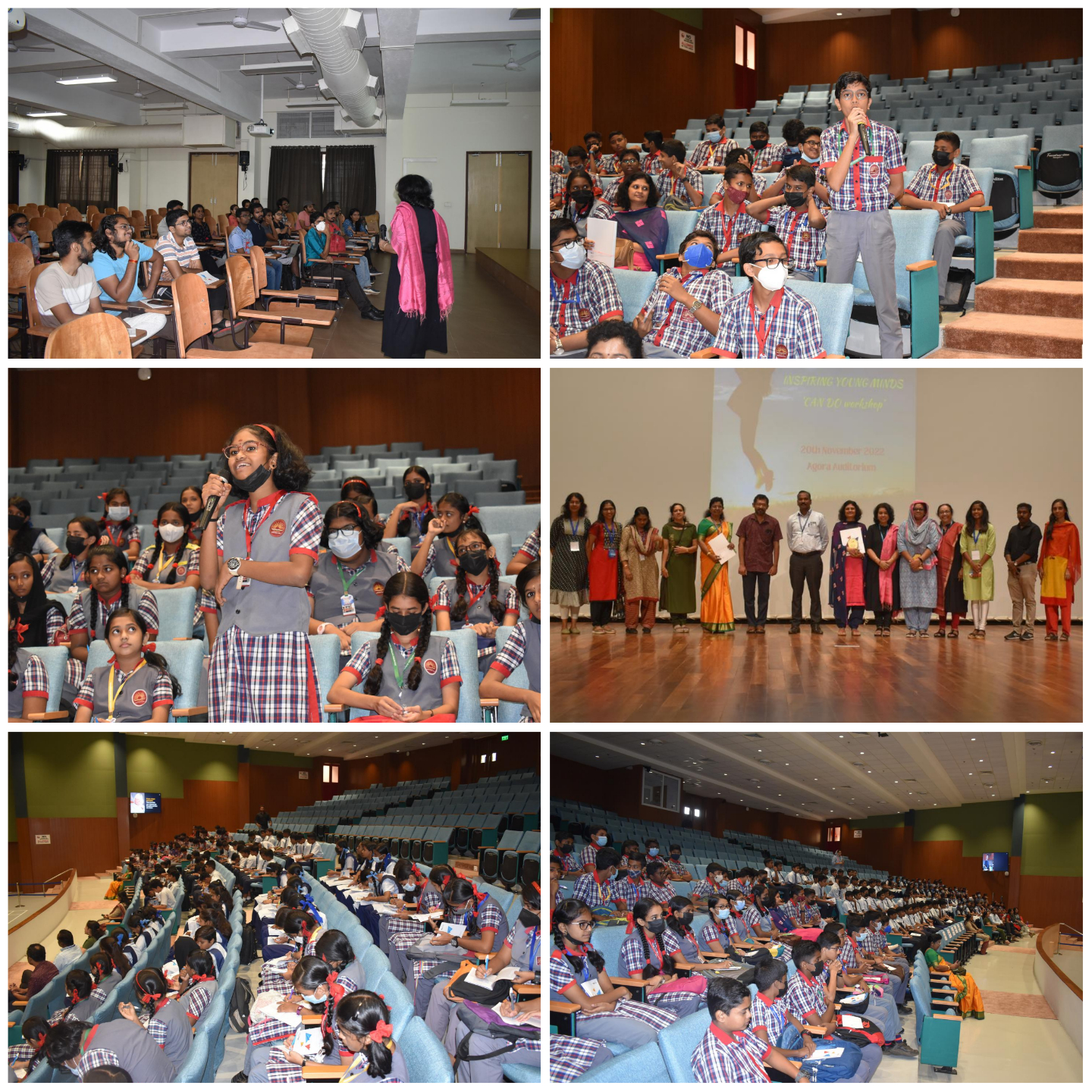 About 160 students from both schools along with their teachers and the Principal of JNV attended the workshop alongside some of the faculty members of IIT. Dr Rositha Kuniyil, Faculty, Chemistry Department, IIT-PKD and Coordinator of the Institute's NSS wing who was also the Role model for the session, shared her journey of challenges and triumphs in the pursuit of her dream. Her story was a true inspiration for students to completely believe in the Power of Dreams and helped inculcate the 'CAN DO' spirit.
      An extremely interactive workshop had the students share information on all of the role models presented to them, including PT Usha and Resool Pookutty.The dreams and aspirations they shared were also interesting, and varied from Civil Services like IFS and IPS, to professional ones like Cardiologist, Genetic Engineer, Vet, Fashion designer, Model,Vigilance officer and Criminologist to becoming the Prime Minister of India.The workshop was followed by an energetic and informal feedback session by the Principal, teachers and students with Team Ullas.
   The afternoon session of the day "Train the Trainer", had the NSS volunteers of IIT being given training for aspects such as Visual learning and positive self image, and Visual Memory and Mind mapping which they shall be guiding students in relation to,  at a later date, in coordination with the school managements. Pattern recognition and Grammar is fun training is planned for January 2023. The sessions certainly opened up a world of opportunities that encourage young minds to explore.
    Our heartfelt gratitude to Ms Parvathi and Ms Chandrika from Team Ullas for such an inspirational workshop and Mr Srikanth from Team Ullas for coordinating the program. We are also extremely thankful to Dr.Ganesh Natarajan, Dean Administration, IIT-PKD who took time off from his busy schedule to be with us and encourage the students. Also a big shout out to all the NSS volunteers for attending the sessions in spite of their busy academic schedule.