Speaker
Padma Shri Bombay Jayashri
From
Thu, 16th Sep, 2021 6:00 pm
Add to Calendar
2021-09-16 18:00:42
2021-09-16 18:00:42
Title
Description
Location
IIT Palakkad
mssarath@gmail.com
UTC
public
To
Thu, 16th Sep, 2021 8:00 pm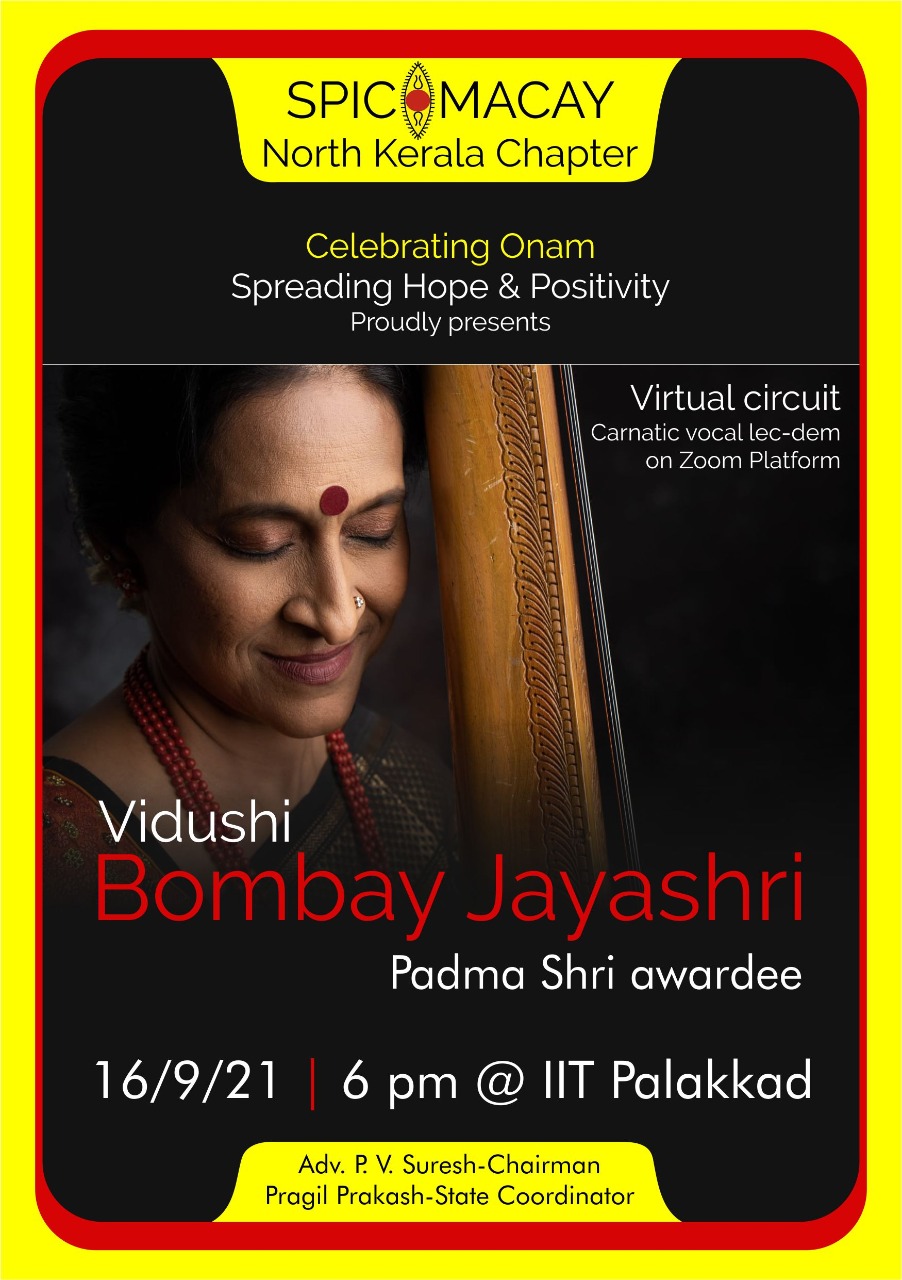 SPICMACAY IIT Palakkad Chapter proudly presents Carnatic Vocal lecture demo (online) by Vidushi Bombay Jayashree as per the details below:

Date: September 16, 2021 (Thursday)
Time: 6:00 pm
Venue: https://bit.ly/smlivezoom

About the Artist:
Born into a family of musicians with rich lineage and steeped in pedigree music,Bombay Jayashri Ramnath represents the fourth generation of music practitioners in her family. Jayashri has been groomed under the guidance of legend ShriLalgudi G Jayaraman and Smt T R Balamani. She was awarded India's fourth highest civilian award the Padma Shri in 2021. More details about her can be found here.
About SPIC MACAY: It stands for Society for Promotion of Indian Classical Music And Culture Amongst Youth, It organizes programmes of classical music and dance, folk arts, heritage walks etc. in schools and college campuses through out the world to make students more aware about indian and world heritage.
SPIC MACAY chapter at IIT Palakkad started on October 23, 2017, with an idea of providing a platform for the students to admire and appreciate the beauty of Indian culture. For more details, please visit our webpage https://spicmacayiitpkd.wixsite.com/mysite
Looking forward to your participation.
Regards,
SPIC MACAY team, IIT Palakkad