Speaker
Ms. Madhumita Dinesh
From
Sat, 4th Sep, 2021 11:00 am
Add to Calendar
2021-09-04 11:00:42
2021-09-04 11:00:42
Title
Description
Location
IIT Palakkad
mssarath@gmail.com
UTC
public
To
Sat, 4th Sep, 2021 12:00 pm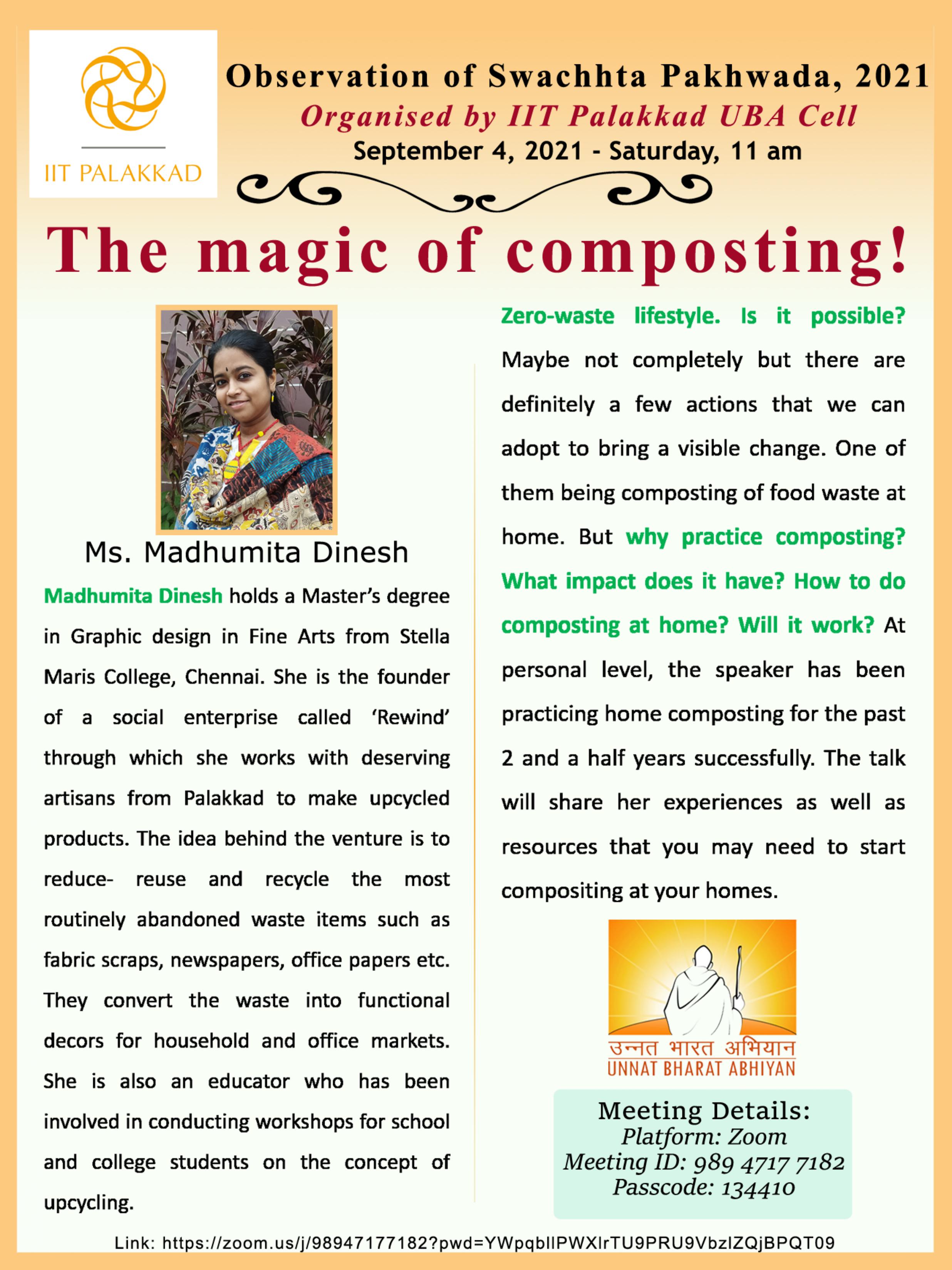 We would like to inform you that IIT Palakkad UBA Cell in connection with the observation of Swachhta Pakhwada 2021 is organising a talk on 'The magic of composting' by Ms. Madhumita Dinesh on 04 September 2021 at 11:00 AM.
Meeting details
Meeting ID: 989 4717 7182
Passcode: 134410
Link: https://zoom.us/j/98947177182?pwd=YWpqbllPWXlrTU9PRU9VbzlZQjBPQT09

Moderator: Dr. Praveena Gangadharan, Assistant Professor Civil Engineering

Abstract of the session
Zero-waste lifestyle. Is it possible? Maybe not completely but there are definitely a few actions that we can adopt to bring a visible change. One of them being composting of food waste at home. But why practice composting? What impact does it have? How to do composting at home? Will it work? At a personal level, the speaker has been practicing home composting for the past two and a half years successfully. In the talk, the speaker will share her experiences as well as resources that you may need to start composting at your homes.
Short Bio of the speaker
Madhumita Dinesh holds a Master's degree in Graphic design in Fine Arts from Stella Maris College, Chennai. She is the Founder of a social enterprise called 'Rewind' through which she works with deserving artisans from Palakkad to make upcycled products. The idea behind the venture is to reduce - reuse and recycle the most routinely abandoned waste items such as fabric scraps, newspapers, office papers etc. They convert the waste into functional decors for household and office markets. She is also an educator who has been involved in conducting workshops for school and college students on the concept of upcycling.