Speaker
Prof. Arnab Bhattacharya
From
Thu, 5th May, 2022 3:00 pm
Add to Calendar
2022-05-05 15:00:20
2022-05-05 15:00:20
Title
Description
Location
IIT Palakkad
mssarath@gmail.com
UTC
public
To
Thu, 5th May, 2022 5:00 pm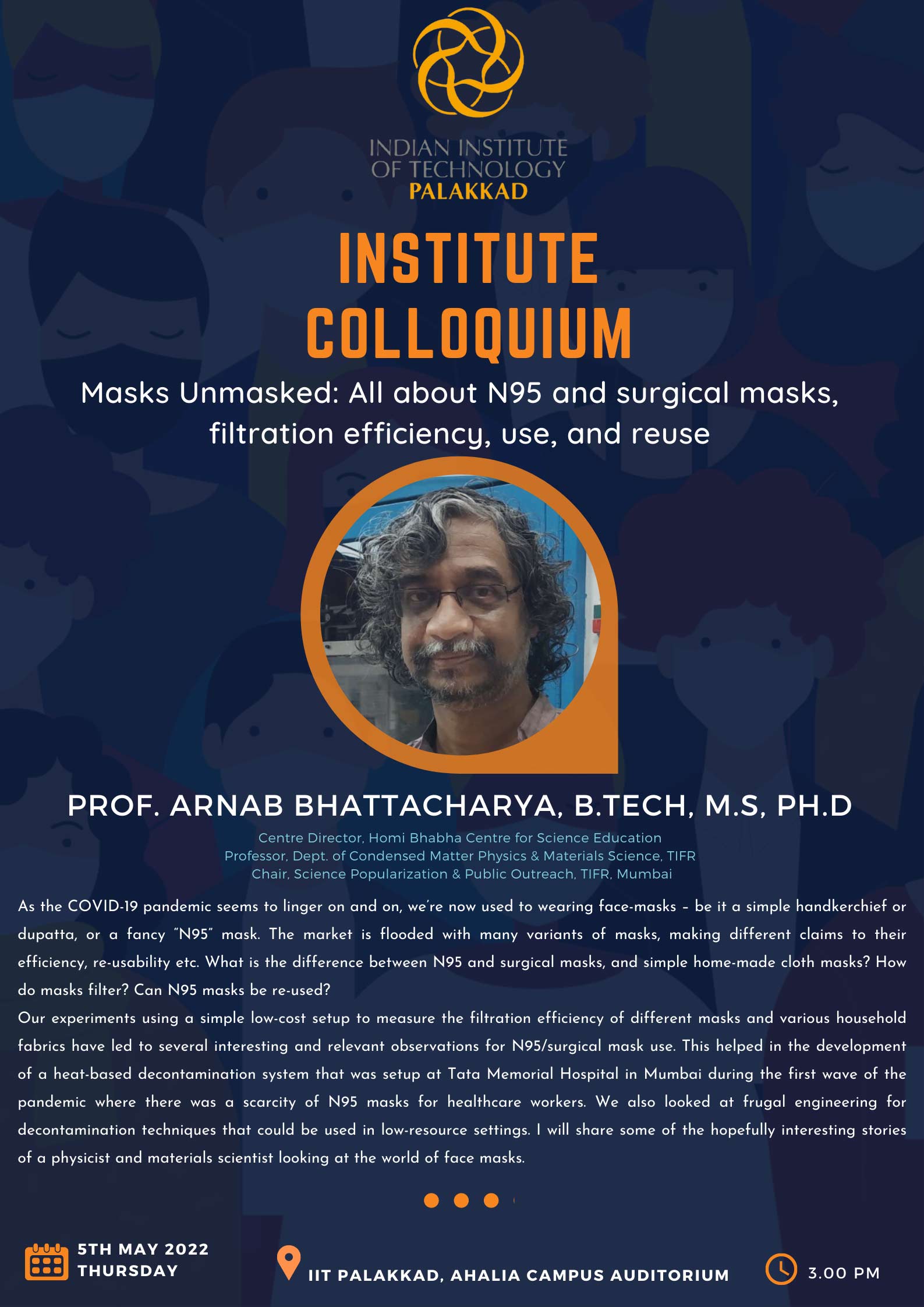 Title of the colloquium: Masks Unmasked: All about N95 and surgical masks, filtration efficiency, use and reuse
Time: 3:00 PM on 5th May 2022
Venue: Ahalia campus auditorium
About the speaker: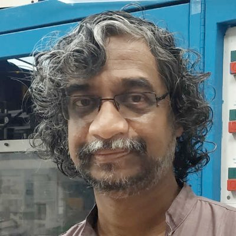 Prof. Arnab Bhattacharya  is a scientist, tinkerer, and science communicator at the Tata Institute of Fundamental Research (TIFR) in Mumbai where he leads a research group in semiconductor opto-electronics, and is also the Centre Director of TIFR's Homi Bhabha Centre for Science Education, Mumbai. Arnab has a B.Tech. degree from IIT-Bombay, MS and Ph.D. degrees from the University of Wisconsin-Madison, and did a post-doc at the Ferdinand-Braun-Institute in Berlin before coming back to TIFR.
 
Beyond the research lab, Arnab is passionate about science outreach, and enjoys talking about science and demonstrating science experiments to all audiences, particularly school/college students, and developing low-cost science experiments. Arnab pioneered "Chai and Why?" Mumbai's popular science café and is presently the chair of Science Popularization and Public Outreach at TIFR. Arnab received the 2010 Homi-Bhabha-Award in Science Education, the 2012 Chevening Rolls-Royce Fellowship for Science and Innovation Leadership, and the 2017 INSA Indira Gandhi Prize for the Popularization of Science. He also has a whole bunch of crazy interests – including music, cooking, hiking, photography, marathon running, etc.
Summary of the colloquium:
As the COVID-19 pandemic seems to linger on and on, we're now used to wearing face-masks  – be it a simple handkerchief or dupatta, or a fancy "N95" mask. The market is flooded with many variants of masks, making different claims to their efficiency, re-usability etc. What is the difference between N95 and surgical masks, and simple home-made cloth masks? How do masks filter? Can N95 masks be re-used?
 
Our experiments using a simple low-cost setup to measure the filtration efficiency of different masks and various household fabrics have led to several interesting and relevant observations for N95/surgical mask use. This helped in the development of a heat-based decontamination system that was setup at Tata Memorial Hospital in Mumbai during the first wave of the pandemic where there was a scarcity of N95 masks for healthcare workers. We also looked at frugal engineering for decontamination techniques that could be used in low-resource settings. I will share some of the hopefully interesting stories of a physicist and materials scientist looking at the world of face masks.