Objectives of the Institute
To provide the best educational infrastructure for imparting high class education in science and technology and a creative atmosphere for inter-disciplinary research both by the students and the faculty.
To increase the student capacity to meet the growing demands for the industry.
To maintain global standards in student-faculty ratio, research output, publications in journals and placement of students.
To participate in and contribute to nation-building through various flagship schemes of the Government of India/State Governments requiring technological interventions thereby spurring economic growth for the welfare of the masses.
To provide research and development consultancy, which will foster healthy industry-academia partnership, thereby providing a competitive edge to the indigenous manufacturing.
 
     2. Mission / Vision Statements
Mission:       
To generate new knowledge by engaging in cutting-edge research and to promote academic growth by offering state-of-the-art undergraduate, postgraduate and doctoral programmes.
To identify, based on an informed perception of Indian, regional and global needs, areas of specialization upon which the institute can concentrate.
To undertake collaborative projects which offer opportunities for long-term interaction with academia and industry.
To develop human potential to its fullest extent so that intellectually capable and imaginatively gifted leaders can emerge in a range of professions.
Vision:
To contribute to society through excellence in scientific and technical education and research.
To serve as a valuable resource for industry and society.
5. Senate
7. Customs Duty Exemption Certificate
8. RTI Act
FRAMEWORK OF THE REPORT

1. Introduction
1.1
Background of this hand-book
Right to Information Act. 2005 (RTI Act)
1.2
Objective/purpose of this hand-book
To provide information about the Institute and sources of information
1.3
Users of this hand-book
Students and staff of the Institute, general public, etc.
1.4
Organization of the information in this hand-book
As per the guidelines of MHRD.
1.5
Definitions

Institute: Indian Institute of Technology Palakkad

Act: Right to Information Act 2005

Statutes: Acts and Statutes of the Institute.

1.6
Contact Person
Dr. B. Thiagarajan Deputy Registrar & Central Public Information Officer(CPIO)
1.7
For additional information
1. Refer to various rules and regulation books of the Institute 2. Contact the appropriate officer as per list in this book or the Institute website.
2. Particulars of Organization, Functions and Duties
 
2.1 Brief history of the Institute and context of its formation
2.2 Duties of the Institute
2.3 Main activities/functions of the Institute
2.4 Services being provided by the Institute
Teaching at UG and PG levels in science and engineering (see details of teaching programs on the website).
To conduct state-of-the-art research in technological and fundamental in frontier areas of science and technology.
To undertake sponsored research and consultancy.
To cater to the continuing education program of the Government of India.
To organize conferences, seminars, and short term courses.
2.5  Expectation of the Institute from the public for enhancing its effectiveness and efficiency
The Institute needs support, cooperation, and suggestions of citizens of the country.
2.6  Organizational Chart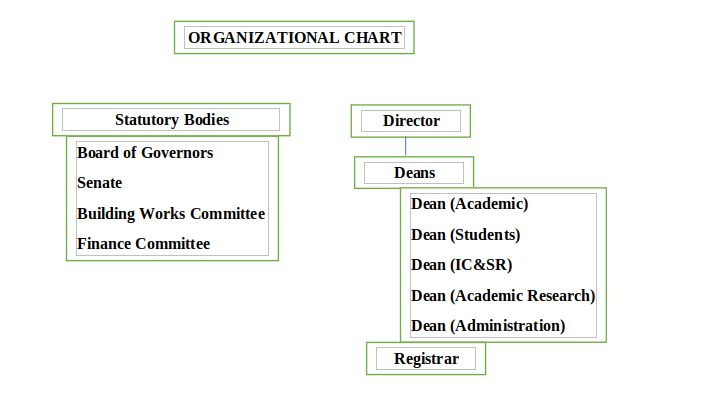 2.7  Address of the Institute
 
Temporary Campus:
Indian Institute of Technology Palakkad,
Ahalia Integrated Campus,
Kozhippara P. O, Palakkad,
Kerala - 678557

Nila Campus:
Indian Institute of Technology Palakkad,
Nila Campus,
Near Gramalakshmy Mudralayam, Pudussery P.O,
Kanjikode West, Palakkad, Kerala - 678623.

2.8 Institute working hours
3. Powers and Duties of Officers and Employees
Director is the Principal Academic and Executive Officer of the Institute. The Director shall be responsible for the proper administration of the Institute and for the imparting of the instruction and maintenance of discipline therein. The Director has the power to incur expenditure in accordance with the procedure as may be laid by the Board/MHRD from time to time.
Deans shall assist the Director in academic and administrative work and maintaining liaison with institutions of higher learning and research.
Registrar is the custodian of records, funds of Institute, and such other properties of the Institute.
Other officers and staff of the Institute assume powers, responsibilities, and duties as assigned to them from time to time by the Director.
For more details see Act and Statutes of the Institute.
4. Rules, Regulations, and Instructions used
     
Institutes of Technology Act, 1961
Regulations for all courses (UG/PG/Research)
Courses of studies (UG/PG)
Fundamental rules
Supplementary rules
General financial rules
Central treasury rules
Further Govt. of India Guidelines/Norms/Orders/Procedures issued from time to time.
5. Boards, Council, Committees and other Bodies
    List of members in BOG, Senate, and Finance Committee available in website.
6. Responsible Officers for RTI
Appellate Authority
Prof. P. B. Sunil Kumar
Director
Nodal Officer: Col S Chakraborty (Retd)

Central Public Information Officer
Dr. B. Thiagarajan
Deputy Registrar
Assistant Public Information Officers:
1. Mr. Muralee Krishnan U Nair
    Assistant Registrar (Finance & Accounts)
2. Ms. Thasnin Harish C M
    Assistant Registrar (Academics)
3. Dr. Soumya G. Rajan
    Assistant Registrar (HR)    
7. The procedure followed in the Decision Making Process
    As per Act and Statutes of the Institute.
8. Directory of Faculty, Officers and Staff and their Duties and Responsibilities
8.1  Faculty
9. Fee for various Programs
10. Norms / Standards
11. The information available in Electronic Form
All relevant information about Institute activities is made available on our website.
12. Means, methods, and facilities available to citizens for obtaining information.
Citizens can obtain information by notice boards, posts, email, websites, advertisements, press releases, telephone, etc.
13. Other Useful Information
14. Purchase Procedure