IIT Palakkad is fully residential with separate hostels for girls and boys. There are two boys hostels and one girls hostel. All students are provided accommodation on twin-sharing basis and all rooms are bath-attached. The hostel buildings and the academic building are situated within a radius of three hundred meters. The necessary facilities like a spacious dining hall and a well-equipped recreational area, an indoor games area, a fitness center, RO based drinking water system and a heavy-duty washing machine in each floor of the hostels were set in place in the first year itself. The other amenities provided in the last one year include an In-house facility for playing football, volleyball, basketball and table tennis. There are professional coaches for athletics, football, volleyball and cricket. Students can also get training at a professional badminton center, 4GB badminton academy, at Palakkad. The common space in the hostel is Wi-Fi enabled.
Each hostel has a common room for recreation which has a television, news papers and selected magazines (decided by the student body). There are guest rooms for visitors to the Institute faculty, staff and students.
Student wellness
Anti-ragging measures 
The motto of the Institute is zero tolerance to ragging. To achieve this, documents and posters intended to sensitize the students and their parents on the highly immoral side of ragging, have been prepared. A structured mechanism has been put into place to monitor ragging related issues and mete out the most stringent punishment to the wrong doers and enforce the anti-ragging regulations in letter and spirit. 

Counseling service
A professional counseling service has been set in place in order to ensure that the students receive help when they face social/emotional issues that require professional approach. At present, a NIMHANS trained counselor visits IIT Palakkad every week from Friday after noon to Saturday. Apart from an office at the academic building the counselor has also provided with a room in the student hostel so that the counselor spends time in proximity to the students. An exclusive student wellness center is being planned on priority basis and the counselor office will be integrated into to the wellness center shortly.
Life skill classes 
The students are given a course in life skills to cope with stress, improve communication skills and manage conflicting objectives. This course, conducted by experts, provides the students with a platform to discover new friends and develop new bonding. It makes the students come out of their shell and easily mix with the new faces.
They are also taught the art of forming well-knit close teams to whom they can lean when in need, without hesitation. The course is mainly aimed at developing inter-personal relationships, building confidence, and making them comfortable while facing the public, interview boards and so on. 
Health Care 
The students are covered by a comprehensive medical insurance scheme for a nominal yearly subscription. IIT Palakkad has an MOU with Athani Hospital, Palakkad for cash-less medical attention. The students can also go to Hospitals of Ahalia foundation for treatment as outpatients. 
Sports 
Students are provided a number of avenues to keep them physically fit. There is a gym with modern equipment, and an enthusiastic faculty member provides training for the students. In house facilities exist for playing football, volleyball, basketball and table tennis. There are professional coaches for athletics, football, volleyball and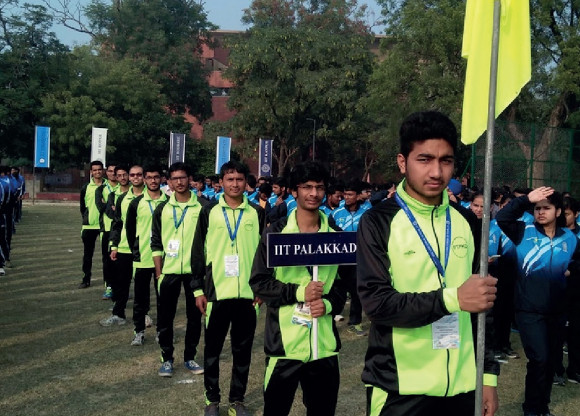 cricket, and with their help the students get an opportunity to use facilities in Palakkad city, and also play with class players. Some of the students adept in badminton regularly visits 4GB badminton academy, a professional sports center. IIT Palakkad students also participated in Inter IIT Sports meet 2016, held at IIT Kanpur.